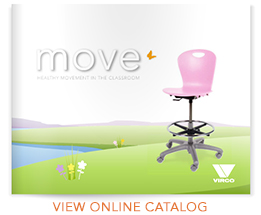 Let Us Help You Rock Their World!
As kids with learning and attention challenges are participating more fully in standard classrooms at all levels, some have noticed the benefits these students are experiencing from the motion of a rocking chair:
improved focus and attention span
reduced fidgeting
better participation and engagement
---
WHERE TO BUY
If you have an existing Virco contract
If you are a public institution (i.e. public/private school, college/university, city/county/federal) and would like to use your existing contract pricing for this special offer, please click on this link to locate the Virco Sales Representative nearest you.
Individuals, find a dealer in your area
ZUMA rockers are also available though many of our dealer partners. Search ZUMA ROCKERS or VIRCO ROCKERS to find the source best for you