PROGRAM EVALUATION
---
Virco® Mfg. Corporation, the largest manufacturer and supplier of classroom furniture in the United States, has partnered with experts in child development, sensory integration and environmental adaptations for the purpose of enhancing classroom furniture and designs in positive and impactful ways for all children. Specifically, the aims of our recent collaborations are the following:
Apply specialized knowledge and feedback from experts to the design and arrangement of classroom furniture, in conjunction with the design team at Virco Mfg. Corporation.
Observe the impact of the introduction of new, sensory-based classroom furniture and designs that support the individualized sensory needs of students to better enable positive behavior and engaged attention.
Assess the preliminary results of introducing sensory supports through classroom furniture and designs for both students and teachers.
Identify and share lessons learned in ways that will increase awareness of the importance of sensory supports for positive behavior and engaged attention at school.
PROJECT DESCRIPTION AND RESULTS
Based on the information in the literature, as well as the interest from Virco's customers in dynamic furniture, such as the Zuma® rocking chair, a program and product evaluation project was developed and implemented.
In the first phase of the project, child development specialists, including occupational, physical and speech language therapists, provided feedback about Virco's classroom furniture. The results included the following:
Broader considerations for ergonomics (such as making adjustable-height chairs more available for classrooms);
The inclusion of greater options for dynamic seating (such as task chairs which also swivel and allow for a slight bounce, in addition to the Zuma rocking chairs);
Exploration of ways to provide support for posture and comfort (such as arms on the rocking and task chairs and foot rests for chairs);
Consideration of ways to support attention pathways (such as use of standing tables and lab stools to allow better visual attention from the back of the room);
Options for desks that would support "personal space" needs, optimal configurations for variations in school work (collaborative versus individual) and desks that would afford children the opportunity to move and configure them so that they could participate in both "heavy work" (which is calming and organizing) and spatial planning (which supports conceptual thought needed for math and other classroom subjects).
In the next phases of the project, seven classrooms participated in a "re-design" with Virco furniture. First, all traditional chairs, desks and cabinets were replaced in two classrooms with a combination of rocking and task chairs (with and without wheels) and lab stools, as well as standing tables, individual desks and classroom cabinets aimed at increasing organization and decreasing visual distractions. A third classroom at the same school kept the traditional furniture and was considered a "control" classroom. All three classrooms were observed for a 2-week baseline period prior to the furniture arrival and then once a week for an 8-week period with the furniture. When the control classroom was compared to the 2 re-designed classrooms, the data revealed the following:
Sitting (feet flat on the floor), suggesting that the children used better ergonomics when seated in the dynamic furniture.
Decreases in

Sensory seeking behaviors that were considered possibly distracting, such as:

Knee sitting (sitting on one or both knees);
Out of seat without a purpose (i.e. wandering in classroom);
Edge sitting (bottom on less than 50% of the chair);
Leg swinging (one or both legs swinging under chair).

Next, several additional classrooms were re-designed to explore additional configurations of furniture, to attempt a different system of behavior data collection and to observe for consistency or variations in the results. One regular middle school, one regular elementary school and one learning center classroom in the Torrance Unified School District (TUSD) were included, as well as one regular elementary classroom in the Los Angeles Unified School District (LAUSD). Pre- and post-behavioral data collection occurred at the regular elementary classroom in TUSD (Riviera) and the regular elementary classroom in LAUSD (Wilmington), with qualitative feedback collected for the remaining classrooms. In this part of the project, an attempt was made to align the observations more closely with observation methods reported in the literature, specifically the Behavioral Observation of Students in Schools (BOSS – Shapiro, 2010; Volpe, DiPerna, Hintze & Shapiro, 2006). The two classrooms were observed for about 5 weeks prior to furniture delivery and then for about 5 weeks with the new furniture. The results showed differences between the pre- and post-furniture as follows:
Increases in "On-task Behavior"

Active Engaged Time: Working on an assignment (AET)
Passive Engaged Time: Listening to the teacher (PET)
Decreases in "Off-task Behavior"

Verbal: Talking to a friend off-topic (OTV)
Passive: Staring out the window (OTP)
Motor: Fidgeting more than 3 seconds, wandering classroom (OTM)

Back to top
PROJECT SUMMARY
The data collection phases of the project revealed better attention and behavior for the children in the classrooms where dynamic furniture and other sensory and organizational classroom considerations were introduced. Although all the teachers were initially apprehensive about the introduction of dynamic classroom furniture, they all ultimately felt that the furniture brought positive changes to their classrooms by the end of the project. In both sets of classrooms, it was noted that there is about a 2-week "settling in" period for the children and teachers to adjust to the new furniture. Anecdotal reports were also generally very favorable.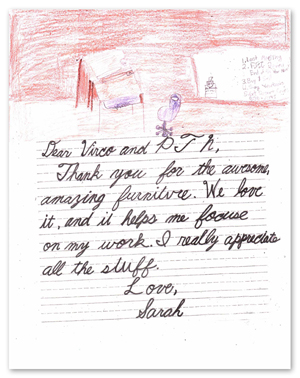 Overall, the findings of this project suggested that the students were spending less time seeking unsafe and distracting movement, replaced instead with more appropriate and supportive movement, through the dynamic seating options. The project also showed that when teachers were given some education about the rationale for the furniture and support for managing the introductory period, they were also positive about the results and preferred the dynamic furniture over traditional classroom designs. These findings are promising for providing some feasible and affordable ways to support attention and behavior in order to facilitate optimal learning for all students in the classrooms of the future.
Pediatric Therapy Network (PTN) is a non-profit organization dedicated to providing the community with high quality therapy, research and education as it relates to fostering the best possible outcomes for children with special needs. In 2010, Virco partnered with PTN to study the use of ZUMA® rocking chairs, task chairs and other dynamic furniture in the classroom. Lessons learned through the collaboration with PTN, as well as with other education professionals, are enabling Virco to develop new products that will help more students excel.
---
Information in this section of Virco's Healthy Movement website is derived, with permission, from: Mailloux, Zoe. Classroom Redesign: Building Partnerships to Support Positive Behavior and Engaged Attention for all Children. Occupational Therapy Doctorate Portfolio, University of Southern California, 2012.

Back to top